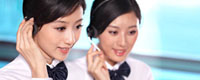 Name: Mr. Matthew Lee
Tel: +86-28-85624287
Fax: +86-28-85624287
Mobile: +86-18628289030 (24 hours)
E-mail: sales@lynsum.com
Add: sichuan, China
Skype: eduequipsupply
QQ: 992289086




| | |
| --- | --- |
| | Product name : SZ001 Low Temperature Stirling Engine Model |
Details:
SZ001 Low Temperature
Stirling
Engine Model

A. Specification:


Weight: 250g
Size: 102(W)mm X 102(W)mm X 125(W)mm
Material: Steel and Glass

B. Features:

C. Application:
With a cup of hot water, light, heating apparatus, solar or any other heat resources, it can be driven easily so it is widely used as an educational tool or toy for students or children to know the principle of energy conversion in physical demonstration.
It can also be used as gifts, collections or decorations for youngsters, adults and elders, making it more unique and interesting.
D. Principle:
Stirling engine, invented by Robert Stirling, was named after him in 1826. It is a heat engine operating by cyclic compression and expansion of air or other gas, making it a conversion of heat energy to mechanical work.

The Stirling engine is noted for its high efficiency compared to steam engines, because it can use almost any heat sources. This engine is currently exciting interest as the core component of micro combined heat and power units, in which it is more efficient and safer than a comparable steam engine.